Pinnacle Auto Appraisers' Blog
Keeping the auto appraising industry up to date with important auto industry and appraiser information.
1928 Mercedes discovered in garage after 60 years to be auctioned
Published June 20, 2012
FoxNews.com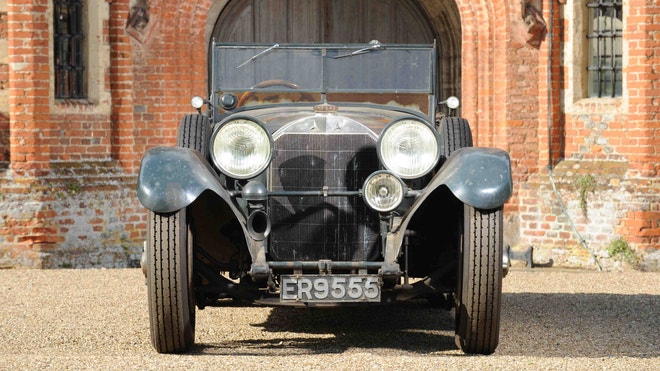 An 84-year-old Mercedes-Benz that was left forgotten in a garage for more than 60 years could fetch as much as $2.5 million at auction in September.
The one-of-a-kind car, which was only recently discovered by the original owner's grandson, still runs flawlessly and has never been restored. Last driven in the 1950s, the car will be up for auction at Bonhams' Goodwood Revival sale in West Sussex, England, on Sept. 15.
"It was an overwhelming amazement to me that such a car existed," said Rupert Banner, the Bonhams specialist who worked with the Mercedes' owner. "It's like the holy grail of our industry to find something like it."
The one-owner car, which does not have an odometer, is believed to have less than 100 miles on it and was "cherished" by its owner, Banner said.
"It's like buying a car that is exactly the same as if you bought it 84 years ago," Banner said. "It's like a 'time warp' car."
When it was first manufactured, the S- Type Mercedes-Benz Sports Tourer could reach 100 mph, making it among the world's fastest of its time.The unidentified owner's grandfather was one of the earliest buyers of the car when he bought it from The British Mercedes Ltd. dealership in London.
Read more: http://www.foxnews.com/leisure/2012/06/20/2-million-mercedes-left-in-garage-for-60-years-to-be-auctioned/?intcmp=obnetwork#ixzz1z60MxeIW
houston auto appraisal, chicago auto appraiser, nashville auto appraiser, orlando auto appraiser
By Ray Massey
PUBLISHED: 07:51 EST, 21 June 2012 | UPDATED: 09:05 EST, 21 June 2012
This is the remarkable moment David Coulthard caught a golf ball in his car while travelling at 120mph.
The F1 star set one of the more unusual world records with the help of separate piece of skillful driving - from Jake Shepherd.
The ball was launched off the tee by the pro golfer, and travelled around 300yds before dropping into the vehicle as the F1 driver skillfully tracked its flight and manoeuvred the £200,000 Mercedes-Benz sports car underneath it.
The bizarre stunt secured the sporting pair the world record for the furthest golf shot caught in a moving car - and in only their second attempt of the day.

The record was set last month at Dunsfold Aerodrome, Surrey where the BBC show Top Gear is filmed.
The amazing feat - already dubbed a 'fore-wheel drive' - was not only caught on camera, but also independently verified by a Guinness World Record adjudicator who confirmed the achievement secured the title of furthest golf shot caught in a moving car.
Read more: http://www.dailymail.co.uk/news/article-2162639/Fore-wheel-drive-Record-breaking-hole-David-Coulthard-catches-300-yard-drive-car-120mph---wasnt-Golf.html#ixzz1yYfcGUZz
houston auto appraisal, austin auto appraisal, denver auto appraiser, orlando auto appraiser
Written by: Ben Timmins[G+] on May 30 2012 12:00 PM
With the Beijing debut of the Concept Style Coupe behind it, Mercedes-Benz is busy working on the production version of the car, dubbed the CLA, and we managed to get a few shots of it testing.
The CLA will be based on the same MFA architecture that will underpin the new A- and B-Classes of vehicle. The architecture will support all manner of front- and all-wheel drive models, including hatchbacks, coupes, at least one crossover, and at least one four-door model, the CLA.
Motivation for the CLA will come from either a gasoline- or diesel-powered engine, some sort of plug-in hybrid, a natural-gas-burning engine, and a possible hydrogen fuel-cell setup. Current gas engines range from a 1.6-liter rated at 112 horsepower to a 2.2-liter, 211 horsepower unit, and the diesels range from a 1.6-liter unit that makes 109 horsepower to a 2.2-liter unit that makes 170. It's also possible that the CLA will spawn a CLA25 AMG model, which would use a 2.2-liter, twin-turbocharged four cylinder that makes 350 horsepower and 332 pound-feet of torque.
As for the design, both the spy shots and the Concept Style Coupe from last month's Beijing show a car with a four-door coupe bodystyle heavily influenced by the bigger CLS. That means framelesswindows, a long, sloping roofline, a blunt front end with oversized three-pointed star and inset mesh grille, and curvy, triangular rear taillights. This particular tester wore a pretty large piece of cladding on its trunklid–an homage to the Bangle butt, perhaps–but the Concept Style Coupe suggests the final product will have a smaller, creased lip spoiler out back.
Expect to see more about the CLA over the coming year: we expect it'll begin production in about 12 months, which would suggest a summer or fall 2013 release.

Read more: http://rumors.automobilemag.com/spied-mercedes-benz-readies-its-2014-cla-four-door-coupe-144165.html#ixzz1wOVQ3QUh
cleveland auto appraiser, cincinnati auto appraiser, columbus auto appraiser, certified auto appraisal, kasas city auto appraiser, st. louis auto appraiser, chicago auto appraiser