Pinnacle Auto Appraisers' Blog
Keeping the auto appraising industry up to date with important auto industry and appraiser information.
Published June 28, 2012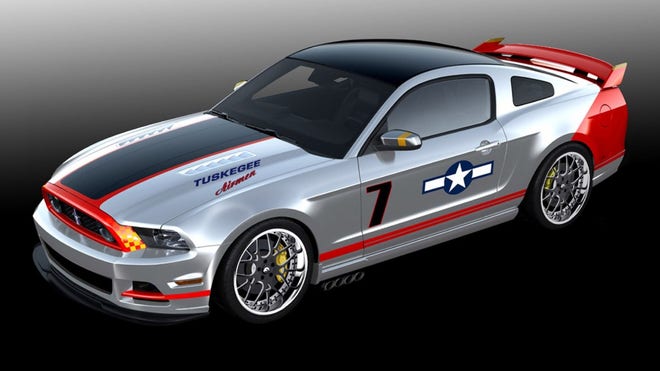 For the fifth straight year, Ford has delivered a special example of its iconic Mustang muscle car to be auctioned off at the annual EAA AirVenture aviation show taking place in July.

The latest version, based on a 2013 Ford Mustang GT, is a one-of-a-kind Red Tails Tuskegee Airmen Mustang, and all proceeds from its sale will go to support the EAA's Young Eagles.

The special youth program aims to provide free introductory flight courses for thousands of young people while also teaching the value of hard work, personal responsibility and enhanced math and science skills.

All of the custom Mustangs auctioned off during past EAA AirVenture events have sold for six-figure sums, including one that went for $500,000, and we suspect the latest Red Tails version will do just as well.

Designed to honor the legacy of the Tuskegee Airmen, the first African-American aviators in the U.S. Army Air Corps during World War II, the special Mustang is modeled after the P-51 Mustang fighter planes piloted by the Tuskegee Airmen, right down to its polished aluminum and silver chrome finish with red and yellow accents.

Read more: http://www.foxnews.com/leisure/2012/06/28/ford-builds-red-tails-mustang-for-charity/?intcmp=features#ixzz1z6xut5x3
Houston Auto Appraisal, Austin Auto Appraisal, San Antonio Auto Appraiser, Detroit Auto Appraiser
Regional, Corporate, and Specific Appraisal Contacts
Our Auto Appraisers are nation wide and cover a large knowledge base of products and services pertaining to the valuation of your property. Feel free to use the links below to email a specific service department within our company, or use this link: Contact Us.

You can also use the form on the upper right of this page to contact us, or use: 1-877-988-9911 to call us toll free. We look forward to hearing from you!
---
---